Look at our blessings this week! I took a little one with me to help find some fun books and the other's were at home checking to see if we had certain books. Goodness knows I can't remember all the books in the collections we have. :)
For me:
Quick & Thrifty Cooking
Busy Woman's Cookbook
Household Survival Manual
Kids
We enjoy collecting the Great Illustrated classic books for the young readers. Brand new they are $10 a piece. We found three new books for our collection at 99 cents each:
Sleeping Beauty and other stories
Black Beauty
Little Women
Classic Mystery Books for kids:
Spies of the Revolution by Katherine and John Bakeless
The Mystery of the Pilgrim Trading Post (An old Weekly Reader book)
We collect Nancy Drew and Hardy Boy books. We found two Hardy Boy books:
Detective Handbook
#58 The Sting of the Scorpion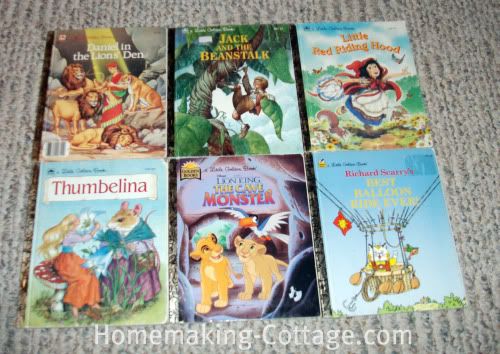 We love Classic Golden books and were excited to find these at 29 cents each:
Daniel in the Lion's Den
Thumbelina
Jack and the Bean Stalk
Little Red Riding Hood
Richard Scarry's Best Balloon Ride Ever
The Lion King –the Cave Monster
Other Classics:
The Wind in the Willows illustrated Classic book
Treasure Island illustrated Class book
Big Red by Jim Kjelgaard
Charlotte's Web (Thought we didn't have it-ooops!)
Children's Stories of the 1850's
Tramp for the Lord by Corrie Ten Boom
Box Car Children #14 Tree House Mystery (love this series too!)
We were so lucky to find three Little's books!
The Little's Have a Wedding
The Little's Have a Party
The Little's to the Rescue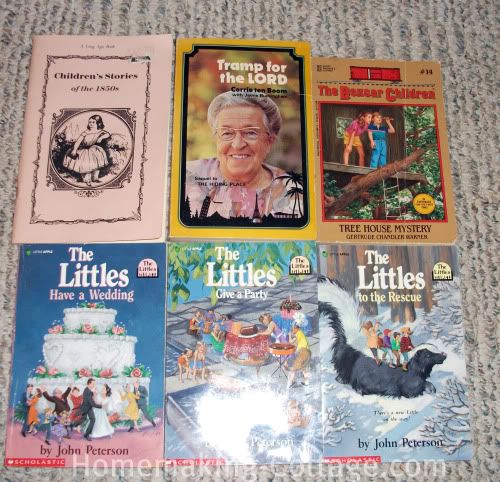 Love Disney books so we got:
Lilo and Stitch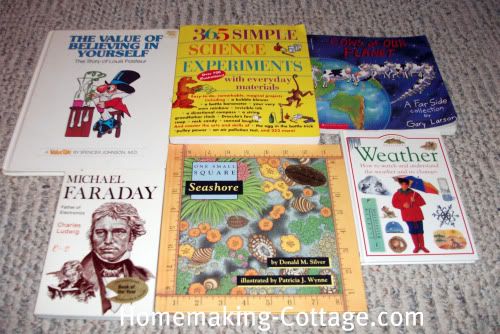 Books to assist in our Family Education:
The Value of Believing in Yourself- about Louis Pasteur (love this series! Found this for 50 cents!)
One Small Square Seashore (even has pictures of seashells and animals and identifies each one) by Donald M. Silver
365 Science Experiments with Everyday Materials
Michael Faraday- father of Electronics by Charles Ludwig
Weather: How to Watch and Understand the Weather and its Changes
This one isn't a school book, but we love the Far Side in our home:
The Cows of Our Planet by Gary Larsen
All this for $25, I was so excited! We just finished Mrs. Piggle Wiggle's Magic so the kids want me to start the Little's Series. They love it so far. {smile}